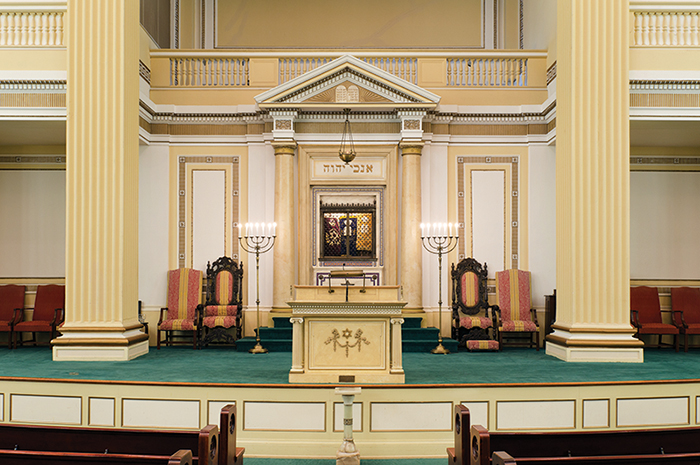 Our Sanctuary
Ohef Sholom is very proud of our beautiful sanctuary.  Built in 1817 in the Greek Revival style, the sanctuary seats 500 people in comfortable velvet seating. The beautiful stained windows and high ceiling allow in lots of natural light and with the auditorium style seating visibility is never an issue.  Our high holiday services, weddings, B'nai Mitzvahs and other services for large numbers are held in the sanctuary.  We are also very proud of the recent modifications that have been made to ensure our sanctuary is accessible to all including those with physical disabilities. These include: 
Cutouts for wheelchairs near the front of the sanctuary

A lift to allow users of wheelchairs or people who cannot navigate stairs access to the Bimah

Hearing devices connected to the audio systems for persons with hearing difficulty.

Level access from our social hall with no stairs.
The Sinai Chapel
The Sinai Chapel was added during a significant renovation of the building, which included adding an additional social hall, and relocating our office area. Our Friday and Saturday services are generally held in the chapel unless there is a B'nai Mitzvah or other service that requires a larger seating capacity. With two walls of the room covered in windows light streams in from every angle, creating a bright, warm and intimate place of worship.  In 2011, when we merged with the Temple Sinai Congregation in Portsmouth, the chapel was named in honor of Temple Sinai and became the new home of the beautiful stained glass panels that were the pride and joy of Temple Sinai. 
Finally, we are very proud of the only "quiet" room in a house of worship in the Tidewater area.  Our quiet room is adjacent to the chapel with windows open to the chapel, and is connected to the chapel sound system.  This enables parents to take children into the quiet room when they get "antsy", need a distraction or no longer wish to sit in the chapel.  The quiet room is full of toys and activities for the children, yet the parents can continue to enjoy the service going on in the chapel both visually and audibly.