The Board of Directors has the responsibility for the general management of the affairs of the Congregation and is comprised of the four elected Temple Officers, 21 elected Directors, the Chair-Persons of the four standing committees, all Past Presidents and Honorary Directors and the Presidents of the Men's Club, Sisterhood, and Ohef Sholom Foundation. All policy, financial, and administrative decisions are made in accordance with the Temple's Constitution and By-Laws. To address the Board, an item may be added to the meeting agenda by contacting the Temple President or Temple Administrator at least one week prior to the meeting.
BOARD OFFICERS
President
Terri Denison Budman
Vice-President  
John Cooper 

Treasurer
Mike Jaffe
Secretary
Barbara U. Dudley

Member-at-Large
Charlie Nusbaum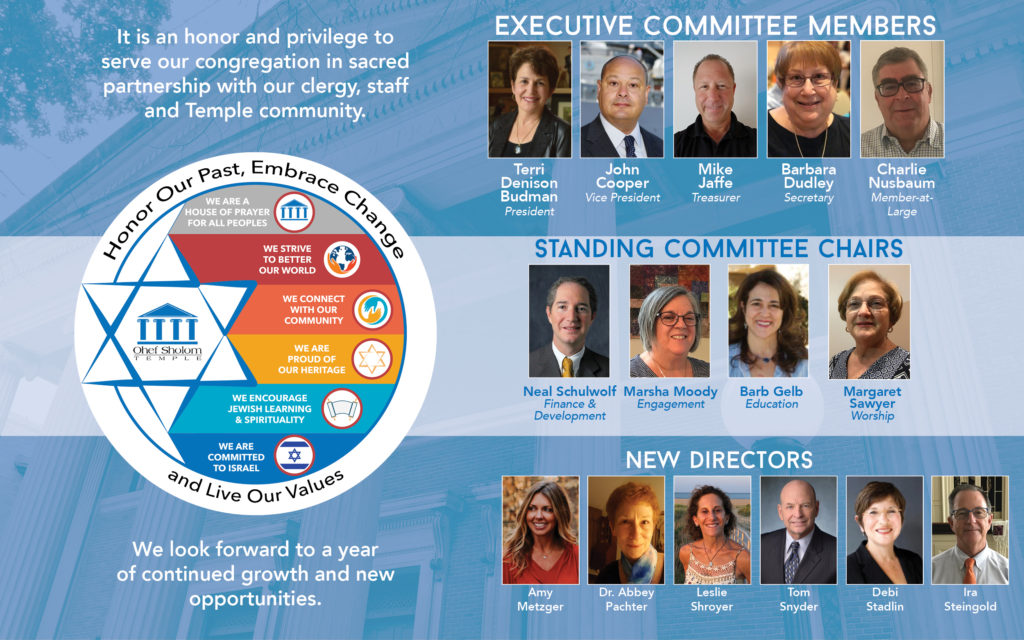 Harold Anten
Carol Brum
Matthew Fine
Andrew Fox
David Hirschler
Bonnie Kerner
David Kushner
Robert Levinson
Robert Liverman
Amy Metzger
Alyson Morrissey
Alyssa Muhlendorf
Dr. Bert Newfield
Sharon Nusbaum
Ethan Ostroff
Dr. Abbey Pachter
Nicole Rosenblum
Paula Russel
Margaret Sawyer
Joashua Schulman
Frank Scott
Leslie Shroyer
Tom Snyder
Debi Stadlin
Ira Steingold
Amy Weinstein
Valeria Williamson
Gail Wolpin
Thomas Bachman
Terri Budman
Allan Donn
Morris Fine
Sandra Forte-Nickenig
Jay M. Friedman
Leslie Friedman
Mark Friedman
Mark Hecht
Andrew C. Kline
Steve Kocen
Jay Legum
Dr. Rachelle Luna
Robin Mancoll
Dr. David Metzger
Alex Pincus
Dr. Meredith Rose
June Saks
Miriam Seeherman
The Honorable Louis Sherman
Louis D. Snyder
Minette Cooper
Karen Fine
Kim Simon Fink
Linda Fox-Jarvis
Robert C. Goodman, Jr.
Steven Kayer
Edward G. Kaufman
Dr. Howard Kesser
Edward A. Kramer
Cathi M. Laderberg
Charles S. Nusbaum
William L. Nusbaum
Kurt M. Rosenbach
Dr. Robert M. Rubin
Henry M. Schwan
Linda Spindel
Alan D. Stein
Ohef Sholom Foundation Board of Directors
Edward A. Kramer, President
Matthew Fine, Vice President
William Nusbaum, Secretary
Jay Friedman, Treasurer


Michael Blachman
Morris Fine
Kim Simon Fink
Leslie Friedman
Izaak Glasser
Jane Goldman
Susan Hirschbiel
Edward G. Kaufman
Howard L. Kesser
Bruce Longman
Alyssa Muhlendorf
Jon Muhlendorf
Norbert (Bert) Newfield
Andrew Nusbaum
Kurt M. Rosenbach
Gene Ross
June Saks
James Schloss
Alan Stein
Ira M. Steingold
Temple Officers (Ex-Officio):
Terri Denison Budman, OST President
John Cooper, OST Vice President
Mike Jaffe, OST Treasurer
Charlie Nusbaum, OST Member-at-Large
Honorary Director
Arthur Diamonstein