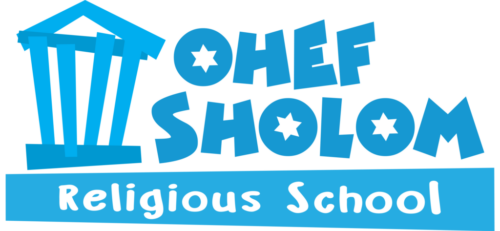 "And You Shall Teach Them [the words of Torah] Diligently To Your Children." (Deuteronomy 6:7)

Ohef Sholom Temple Religious School is committed to raising lifelong Jews whose identity is firmly grounded in Torah and Jewish texts and who are connected to Israel, our history, culture, language and traditions. We strive to ensure that our children find joy, pride, and meaning in becoming lifelong learners who will serve to strengthen Jewish life and the Jewish community- both locally and afar- and by connecting directly to the Clergy, staff, congregation, and each other.
Ohef Sholom Temple Religious School meets most Sundays throughout the school year from 9:30 am-12:00 pm and offers an engaging Jewish educational experience for students in Pre-K thru 10th grade. We are excited to introduce the Institute for Southern Jewish Living's curriculum this year in our Pre-K thru 6th grade classes where the focus is on community, culture and symbols, God, Israel, Jewish history, Jewish holidays, Jewish lifecycle events, mitzvot and Jewish values, and TaNaKh. We will also be utilizing Moving Traditions, a curriculum aimed at B'nai Mitzvah aged learners and their parents. We will provide 5 sessions where families will get to learn side-by-side as they prepare for their simcha. Lastly, we are starting an electives based model for our 7th, 8th, and 9th graders where they will get to choose various topics to explore, with a Jewish twist, such as theater, cooking, and journalism. Each grade level will also spend a trimester focused on their core curriculum. In 7th grade they will study comparative religions, in 8th grade the Holocaust, and in 9th grade they will dive into the Israel/Palestine conflict. 
Along with our robust curriculum, students will have the opportunity to participate in art, cooking, music, and weekly t'filah. Throughout the year Ohef Sholom Temple Religious School hosts family programming centered around the holidays, some will take place in our building, while others may be outside of the temple. 
Hebrew School meets just before Religious School on Sunday mornings from 8:45-9:30. Students will also meet one-on-one with their teacher for 20 minutes during the week over Zoom. Hebrew School begins in 4th grade and continues through their 7th grade year. We are very proud of our self-paced Hebrew program that recognizes not all students will learn at the same pace. While each student will have a lead teacher, our madrichim (teen assistants) really play a huge role in our Hebrew program. 
Ohef Sholom Temple is very fortunate to offer assistance to those with disabilities and has a licensed special education professional on staff who is able to provide support for all students.
This year we are welcoming nonmembers to experience all our Religious School has to offer for one year. Try us out to see what a great fit Ohef Sholom Temple is for your family.
If you have any questions, or would like further information about Ohef Sholom Temple Religious School, please reach out to Alyson Morrissey, Director of Lifelong Learning, at Alyson@ohefsholom.org or 757-625-4295 ext 114.