As others planted for me, so I am planting for the generations who come after me.
These words are the response of an old man to a youth who asked why he was planting a carob sapling whose fruit would take seventy years to appear.

Etched upon our doorposts is our mission "a House of Prayer for all Peoples." As the oldest and largest Jewish organization in Hampton Roads, we adapt and thrive by incorporating innovation into all facets of Jewish tradition, education, and life.
Our Temple connects us as we strive for spiritual meaning, moral purpose, and a sense of community.  We are inspired by our high caliber clergy, our programming, worship and our volunteer opportunities that create fulfilling social networks among each other, fostering a sense of belonging.  Our open, inclusive community is a mosaic of multigenerational Jews and partners of Jews.

Together:

We practice Reform Jewish values through prayer, learning, and social action. We are engaged in learning that challenges us through the continuum of life.

We open our congregation to those who have traditionally faced closed doors, such as the LGBTQ, special needs communities and interfaith couples and families. Membership is open to everyone regardless of ability to pay the full cost.

We are captivated by Jewish liturgical music as it frames our journey through the seasons and we rejoice in lifecycle events.

Our youth find an individual connection to Judaism through our vibrant Sunday Learning Community, youth programming, and family friendly worship.

We embrace a tradition of environmental stewardship and partnership in the ongoing work of Creation that goes back to Genesis.

We look outside of our congregation to see how we can repair and enhance our community.

Prior generations provided us with an exceptional house of worship.  Our Eternal Light Society members are people like you who will:
Ensure that every Jewish person has a Jewish community.

Allow Jewish youth a place to explore their Jewish identity in a vibrant, non-judgmental home.

Safeguard a beacon of openness and inclusivity in our Hampton Roads' Jewish community.
Join us as we ensure that Ohef Sholom thrives for generations to come and continues to be a "House of Prayer for All Peoples."
---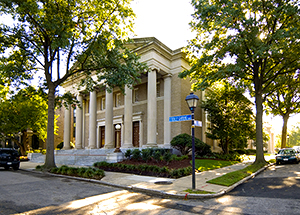 Our heritage has been carefully and lovingly preserved by those who came before us. Today we partake of the fruit of their labors as we avail ourselves of the blessings our Ohef Sholom Temple provides for us. It is incumbent upon us to secure a vibrant Jewish future for the generations who will follow us.
Throughout our long and distinguished history, Ohef Sholom Temple has served as a gathering place, a place to worship, to be inspired and to seek answers through study and a commitment to a just and better world. We have inherited the spiritual and social foundations created by preceding generations. Our legacy, indeed our responsibility, is to take what we know and pass it on to our children and grandchildren.
---
Caring people have nurtured Ohef Sholom and helped this sacred institution remain a "House of Prayer for All People." Now we are each challenged to consider our personal commitment to the future viability of our Temple.
To secure the Temple's continued financial health, the Ohef Sholom Foundation is seeking to obtain additional endowment funds of at least $6,300,000.
It is our obligation to make sure Ohef Sholom Temple will be there for our children, grandchildren and the generations to come.
By developing a permanent base of financial support, the Endowment Campaign will ultimately link our rich heritage with a vibrant and promising future.