Our Sanctuary & Chapel
Celebrating Over 100 Years in our Sanctuary
Our Sanctuary
Ohef Sholom Temple is extremely proud to celebrate over 100 years in our beautiful Sanctuary. Built in 1918 in the Greek Revival style, the Sanctuary seats over 600 people in velvet auditorium-style seating. The beautiful stained glass windows and high ceiling allow in an abundance of natural light accompanied by great visibility of the bimah  from anywhere in the Sanctuary. 
Our High Holy Days services, weddings, B'nai Mitzvah and other large services are held in the Sanctuary. Recent modern updates and modifications have been made to ensure our Sanctuary is accessible to all, including those with physical disabilities. These include: 
Cutouts for wheelchairs near the front of the Sanctuary
A lift to allow users of wheelchairs or people who cannot navigate stairs access to the bimah.
Hearing devices connected to the audio systems for persons with hearing difficulty
Level access from our social hall with no stairs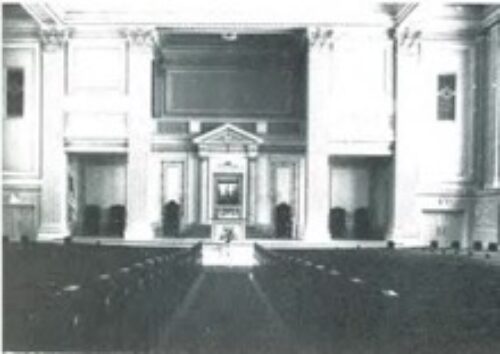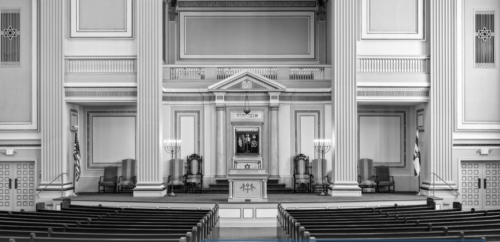 Sinai Chapel
Sinai Chapel was added during a significant renovation of the building in 2005. Our Friday and Saturday services are generally held in the chapel unless there is a B'nai Mitzvah or special service that requires a larger seating capacity. With two walls of the room covered in windows, light streams in, creating a bright, warm and intimate place of worship.
In 2012, Temple Sinai of Portsmouth merged with us and the chapel was named in its honor. The amazing stained glass window panels – the pride and joy of Temple Sinai – are now housed in our chapel, along with our beautiful Steinway concert grand piano.
Adjacent to our chapel is a "Quiet Room," which features windows that view into the chapel and is connected to the chapel's sound system. This enables parents to enjoy the service both visually and audibly while entertaining children with toys and activities during services.