Need to Check or Update Your Listing in Ohef Sholom Temple's Directory?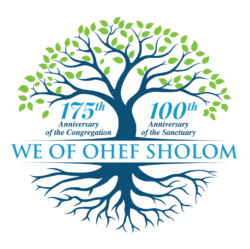 Please support the 2020 OST Directory in Celebration of our 175th Anniversary
It is time for our NEW Ohef Sholom Temple Directory! We are proud to dedicate this Directory to OST's 175th Anniversary. Our Directory is an important fundraiser that supports programming services at Ohef Sholom Temple and in the greater Hampton Roads community, such as Norfolk Emergency Shelter Team, our monthly Soup Kitchen, the Judeo-Christian Outreach Center, and ForKids. Submission date for sponsorships and ads extended through April!
For Congregants
The OST Directory Serves Two Purposes:
1) CONNECTIONS: Our Directory is a valuable tool to enable us to connect with one another by providing contact information; 

2) FUNDRAISER: The Directory provides funds to support our annual budget. 
As you may know, OST dues account for only 79% of our annual budgeted income. For the remaining 21%, we rely on fundraisers such as the Directory, our endowment, and other contributions to balance our budget.
We ask you to please consider how you might financially support our efforts to be a "House of Prayer for All Peoples."  Be an advertiser or Directory/175th Anniversary supporter with the option to honor or memorialize your loved ones. Additionally, please help us by promoting Directory ads to all the local businesses you patronize. It is great advertising with a more than two-year shelf life. 
For Businesses
Reach over 700 local households with this unique advertising opportunity!
Consider advertising in Ohef Sholom Temple's upcoming 2020-2022 Directory, which offers the following benefits:
Low cost per ad view. For a one-time fee your ad will be seen time and time again for the next two years. Great Shelf Life!
Exposure. Reach over 700 households spread across the entire Hampton Roads area that rely on this invaluable resource booklet on a regular basis in their homes, cars, and businesses.
Support. Know that our congregants are actively encouraged to support our directory advertisers.
Easy Access. Your ad will be organized alphabetically and by category in the Directory Index for ease in searching.
Free Ad Design by our talented graphic artist.